Choir
Sacred Music at Lake of the Isles Lutheran Church calls people of all ages to be "servants of Christ and stewards of the mysteries of God." (1 Cor 4:1) Our choir exists and flourishes to lead and illuminate prayer through profound excellence in musical expression, through the understanding and proclamation of sacred texts, and through a loving desire to respect and enhance the rich liturgical heritage of our faith.
The LOTI Choir prepares music for the 9:30 AM Sunday services (call time: 8:45 AM). Rehearsals are on Wednesdays from 7:15 to 8:45 PM. We invite you and your family to become involved in this enriching ministry of service. Curious members may join us for a Wednesday rehearsal or for Pick-Up Choir on occasional Sundays. You do not need to have an angelic voice or advanced knowledge of music. There are really only three criteria necessary for joining:
1) Willingness to commit to scheduled rehearsals and services.
2) Ability to match pitch.
3) Ability to carry a tune.
For more information, contact the Director of Music.
Pipe Organ
Jaeckel Organs · Opus 2 (1980) · Duluth, Minnesota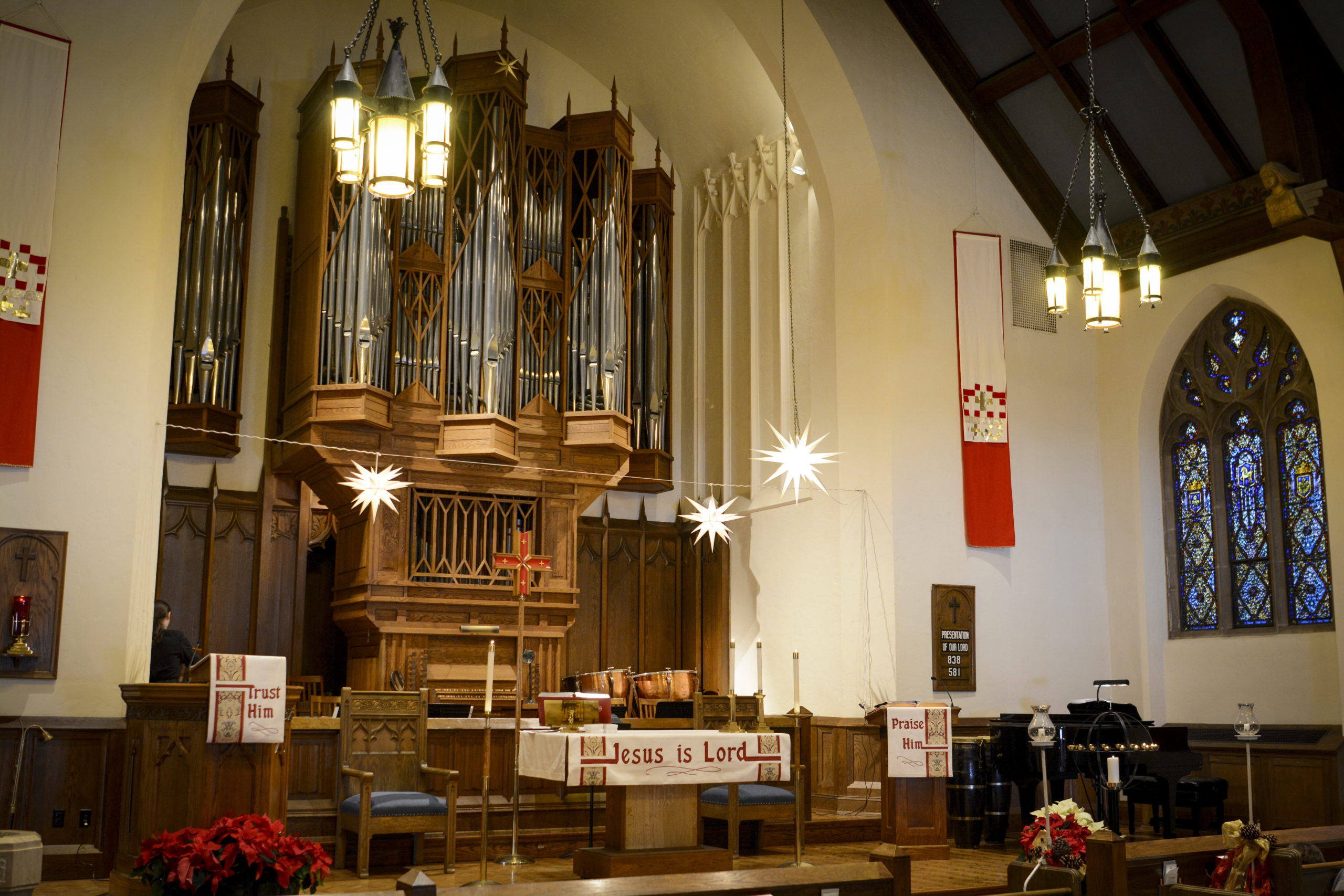 Hauptwerk – 56 keys
Prästant 8′
Rohrbourdon 8′
Octav 4′
Waldflöte 4′
Hohlflöte 2′
III Cornet 4′
IV Mixtur 1⅓'
Trompete 8′

Brustwerk – 56 keys with expressive shutters
Singend Gedackt 8′
Rohrflöte 4′
Prinzipal 2′
III Zimbel 1⅓'
Holzrankett 16′

Pedal – 30 keys
Gedackt Bass 16′
Prästant 8′
Gedackt 8′
Choral Bass 4′
III Hintersatz 2′
Gedackt-Trompete 16′

Accessories
Brustwerk to Hauptwerk
Hauptwerk to Pedal
Brustwerk to Pedal
Zimbelstern
Tremulant

20 stops, 28 ranks
Two mechanical combination pedals
Temperament: Kirnberger III
"The aim and final end of all music should be none other than the glory of God and the refreshment of the soul."

Johann Sebastian Bach